How to Move Thunderbird Data Files to Office 365 Accurately?
admin | Published: November 26, 2019 | Cloud Backup, Email Backup, Email Migration
Summary: Are you looking for a trustworthy solution i.e. Thunderbird to Office 365 Converter to get instant result of how to move Thunderbird data files to Office 365? Keep reading this blog to get automated solution i.e. Thunderbird to Office 365 Converter or you can download the same by clicking on below given link.
Office 365 is an email client which enables user to work from anywhere and anytime. There is no issue of security of database and it doesn't require extra time to manage the database. This is the main reason behind switching of Thunderbird profile into Office 365. However if you are thinking to switch email client into Office 365 then it is equally vital to move data files.
Office 365 is a well-known application of Microsoft. It is a subscription based application which comes with complete package that includes Word, Excel, PowerPoint, 60 Skype min etc. It offers different packages according to your requirement and can be installed on multiple devices based on its licensing agreement. However it needs proper technical expertise to move database from one source to another. As all the email clients support different file formats so it is also required to change source platform format into destination file format. So make sure conversion of file formats while you are shifting from one email client to another. There are various method available to move database from Thunderbird to Office 365 but most of them give partial solution. Read this blog to get solution of how to move Thunderbird data files to Office 365 and why users want to switch Thunderbird profile into Office 365.
Reasons to Migrate Mozilla Thunderbird Database into Office 365
Following are some of the reasons behind conversion of Mozilla Thunderbird profile into Office 365: –
Being a cloud application, mailbox of Office 365 can be access from anywhere and anytime.
After suspension of Office 365 account in 2012, it become very costly for users to manage database in Mozilla Thunderbird. While Office 365 provide pocket friendly service with advantageous packages.
Keeping database in Office 365 provide complete security. If you are running your database in in-house servers then it's your job to think seriously about security. On the other hand in case of Office 365, you will buy yourself some peace of mind.
It is very helpful in centralising database at single place and facilitate users to manage database easily.
Manual Method to Move Thunderbird Data Files to Office 365
Manual method involves five steps through which you can move Thunderbird profile database into Office 365.
Step 1: Extract data files from Thunderbird account to EML.
Step 2: Export the EML files into Outlook Express.
Step 3: Now move mail files from Outlook Express to MS Outlook.
Step 4: Next you have to transfer emails from Outlook mails to PST files.
Step 5: Move PST files of Outlook to Office 365 by using one of these methods:
Network upload
PowerShell command
Drive Shipping Method
Shortcomings of Manual Method:
The method involves lots of complexity therefore it can be easily handled by non-technical background users.
Manual method is a lengthy process which consumes lots of precious time.
It is not suitable for files of big sized.
Any minor mistake may lead to loss of database so make sure you have a copy of database before performing the conversion.
Professional Method to Move Thunderbird Data Files to Office 365
Thunderbird to Office 365 is an advance third party utility which provides you complete solution of how to move Thunderbird data files to Office 365. The software support all Windows operating system and facilitate conversion of emails on all Windows version such as 10, 8, 7, 8.1, vista, XP etc. After performing the complicated steps of manual method, you will find the automated method so easy. Also through selective migration you can move selective emails to Office 365 and for this it offers advance filters like to, from, subject, date etc. You can apply these filters to backup emails of certain date range, specific sender/receiver address, and particular words/phrases. Because of its friendly GUI it become easy for any naïve user to operate it.
Follow the below given steps to successfully move Mozilla Thunderbird emails into account of Office 365: –
Step 1: In the very first step, Install the professional solution and run it in your PC.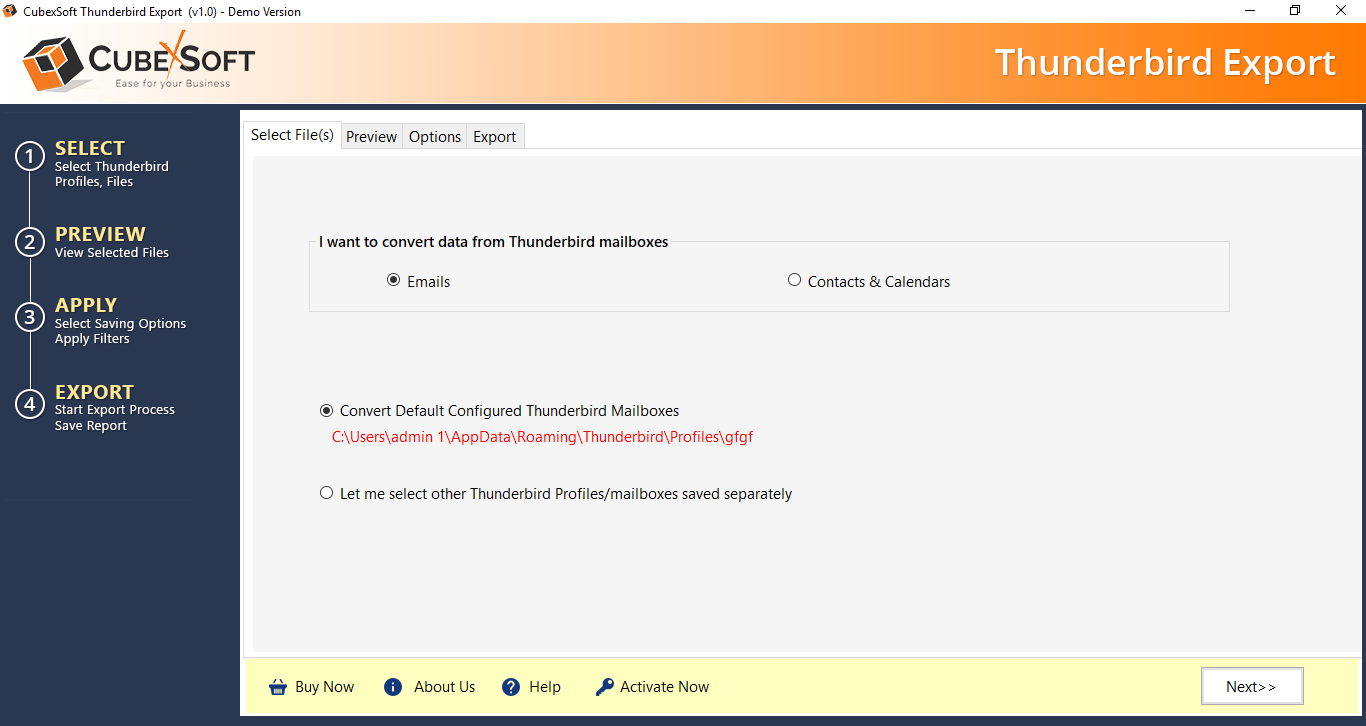 Step 2: Click on File Mode or Folder mode to load you Thunderbird data files into Software.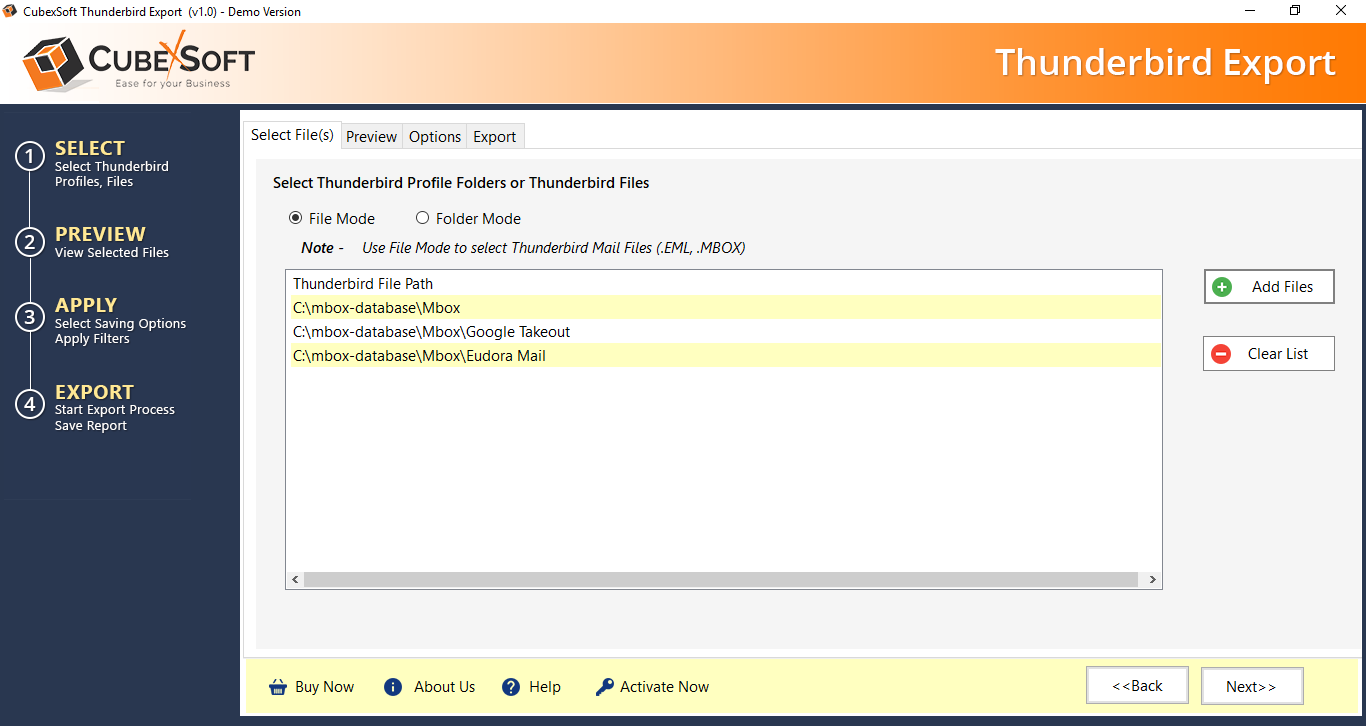 Step 3: After loading the whole mailbox, the software start displaying preview of the selected files. In this step you can cross-check the selected files or change the selection if required.
Step 4: Now choose Office 365 as output option and click on Next button.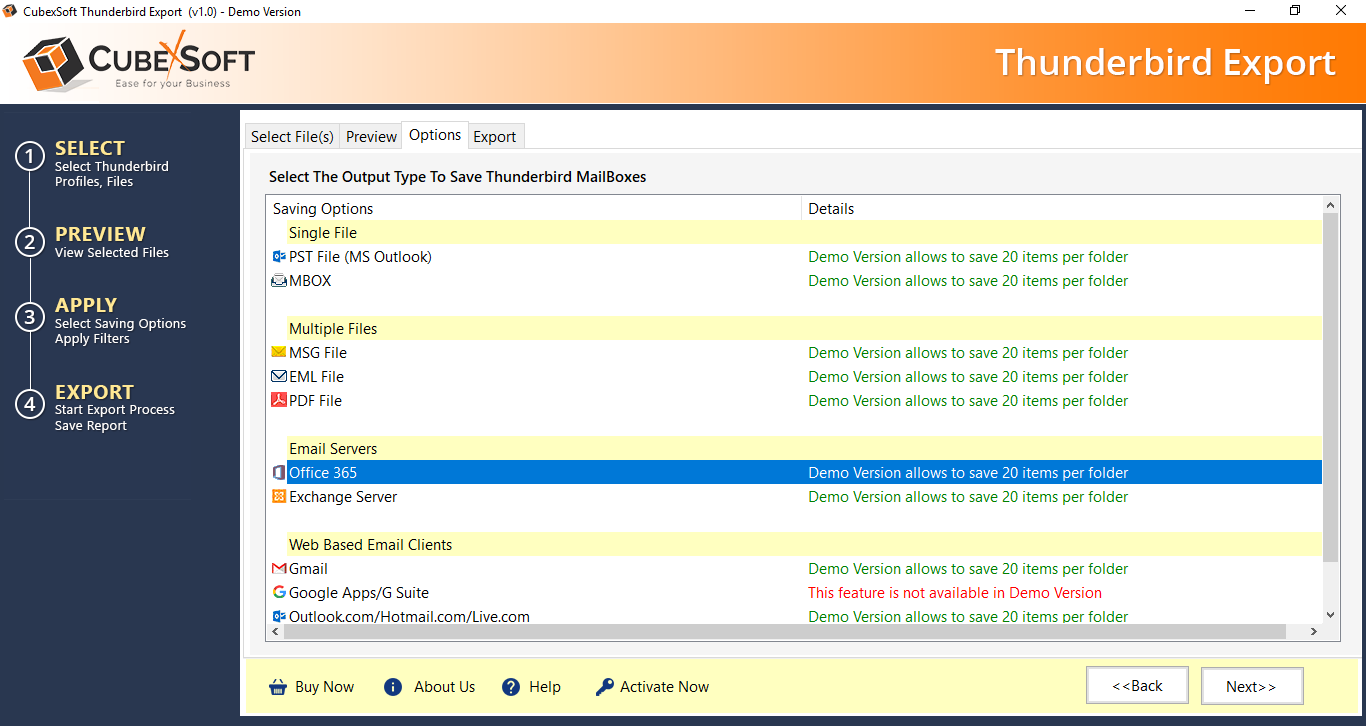 Step 5: Further make selection according to your requirement.
With Administrator: – When you choose this option you just need to add login details of Office 365 admin account.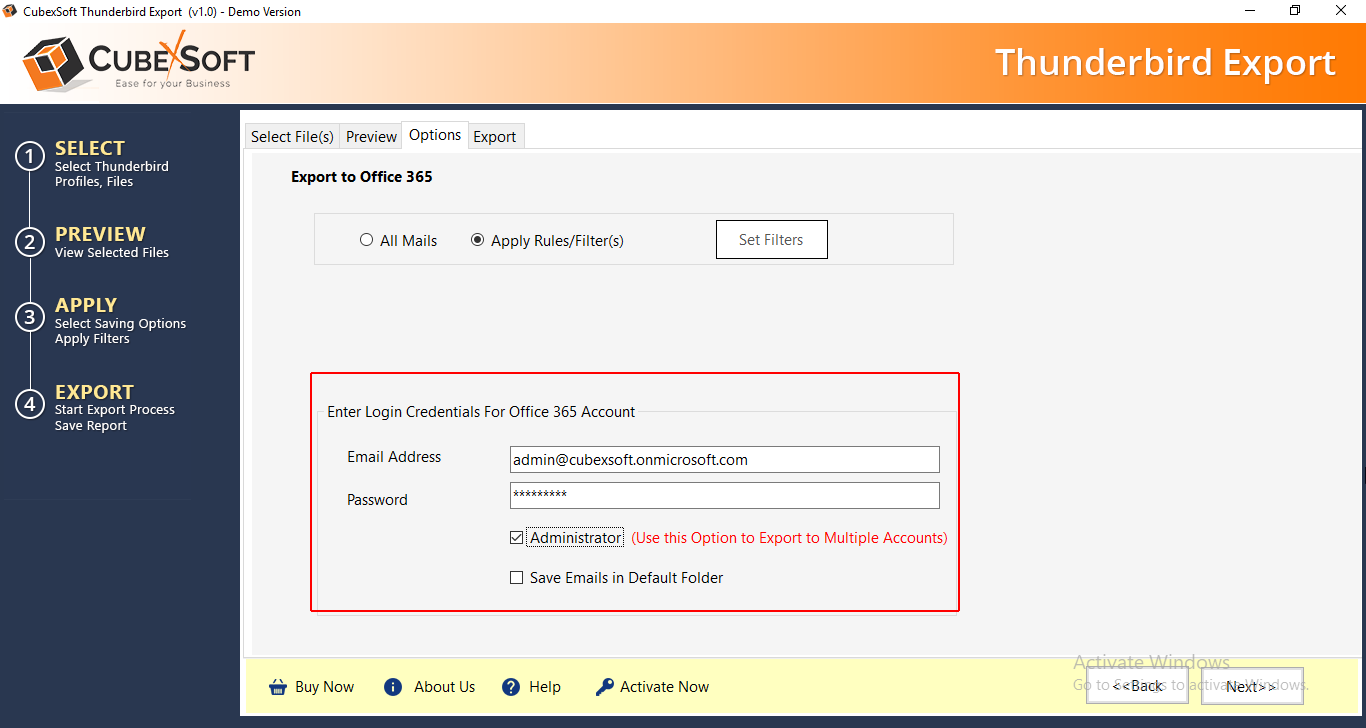 Without Administrator: – When you choose this option you have to fill login details of each user account separately from which you want to extract database.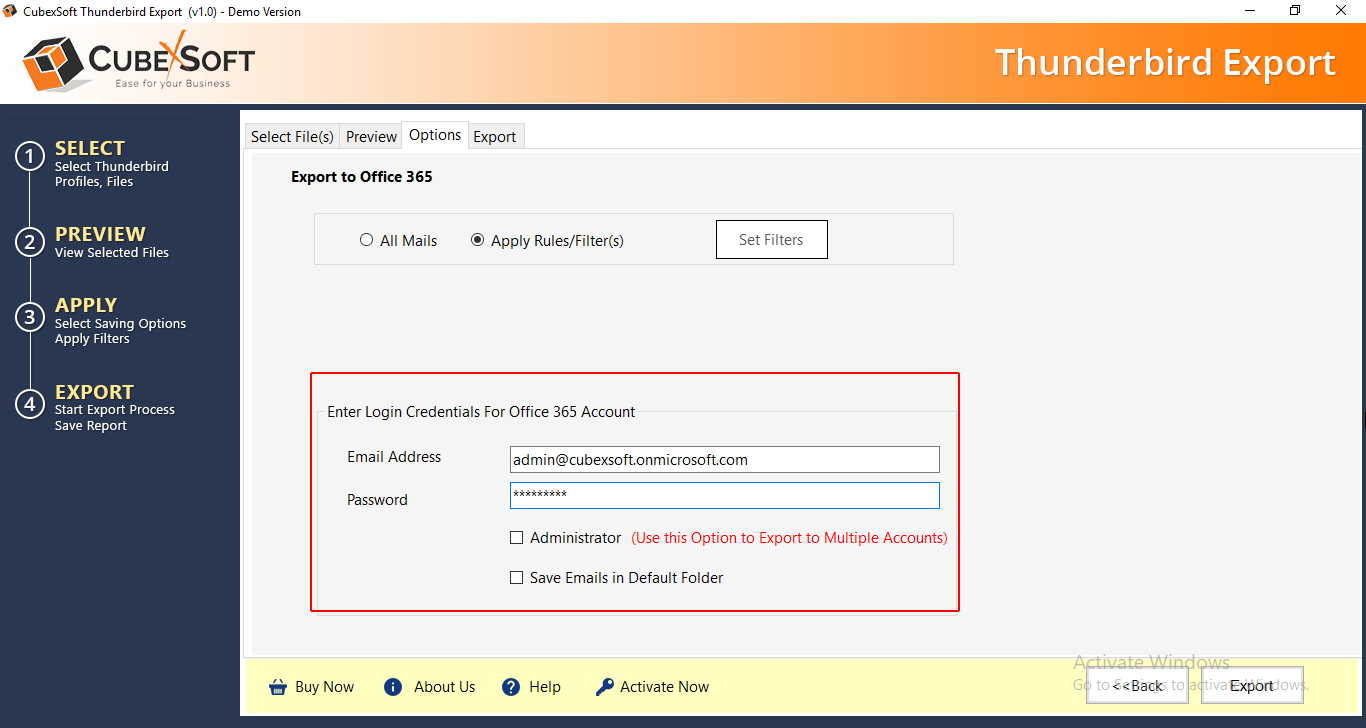 Step 6: Next fill login details of Office 365 account i.e. Email Address and Password. Click on Export Button.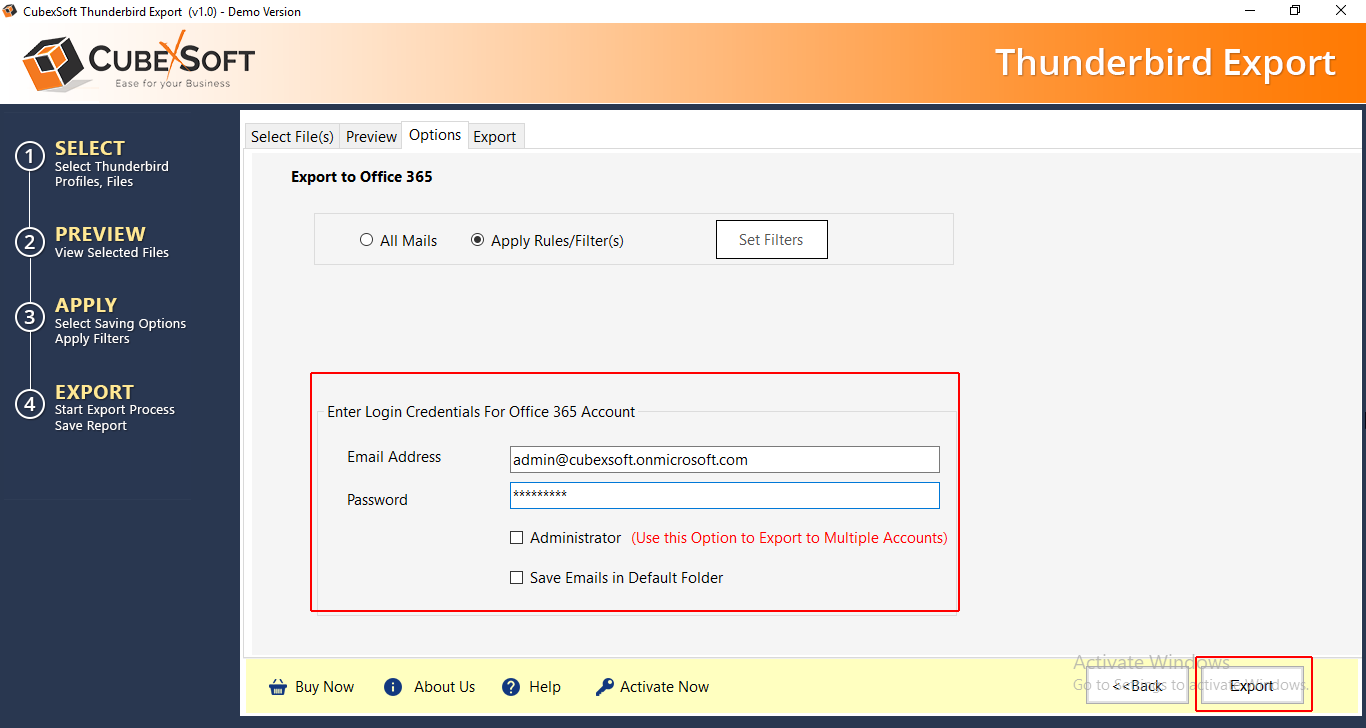 Step 7: Just after clicking on Export button the software start the conversion process and shows live conversion status in green panel.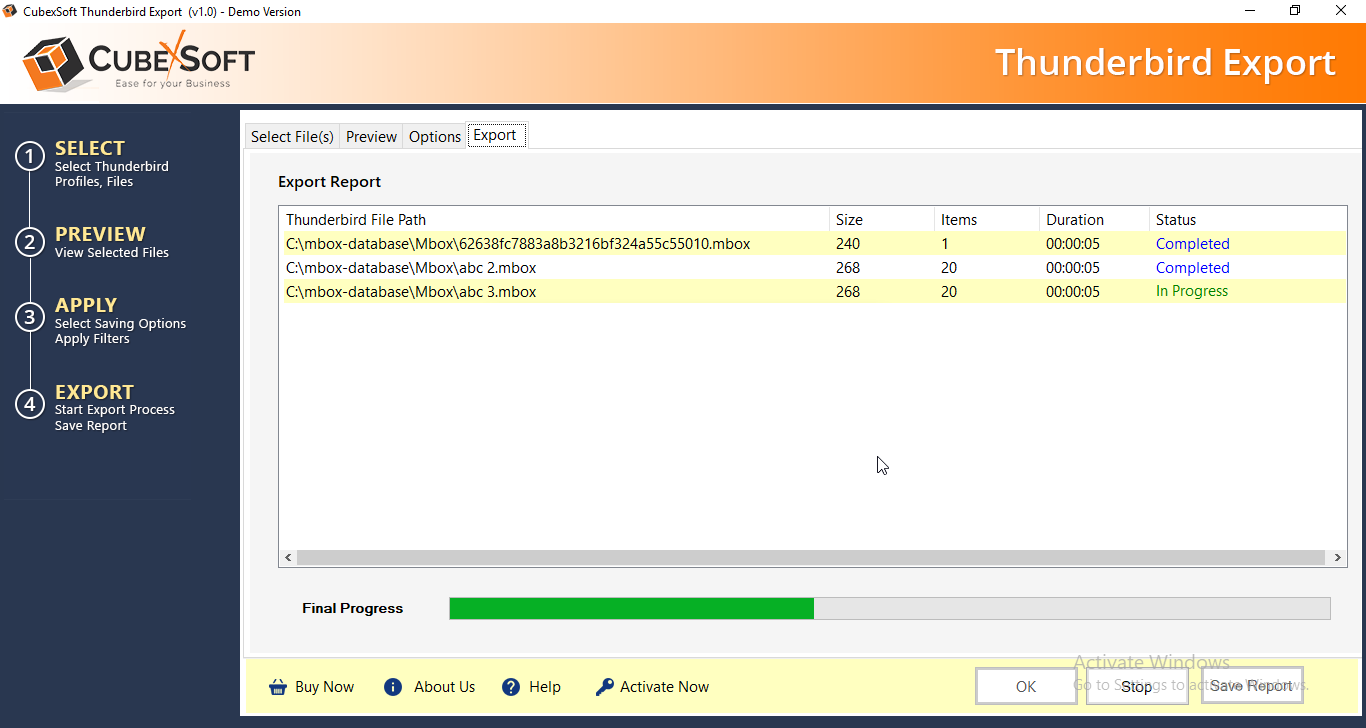 Step 8: The conversion will be completed in few minutes and then a pop-up Windows open with a message "Conversion Completed". Click on Ok button to move forward.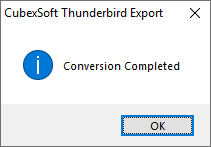 Step 9: Finally the software provide log report which contains whole backup summary such as starting time/date, Destination path, selected files, selected destination, status etc. Click on Save Report option to save the report in CSV format.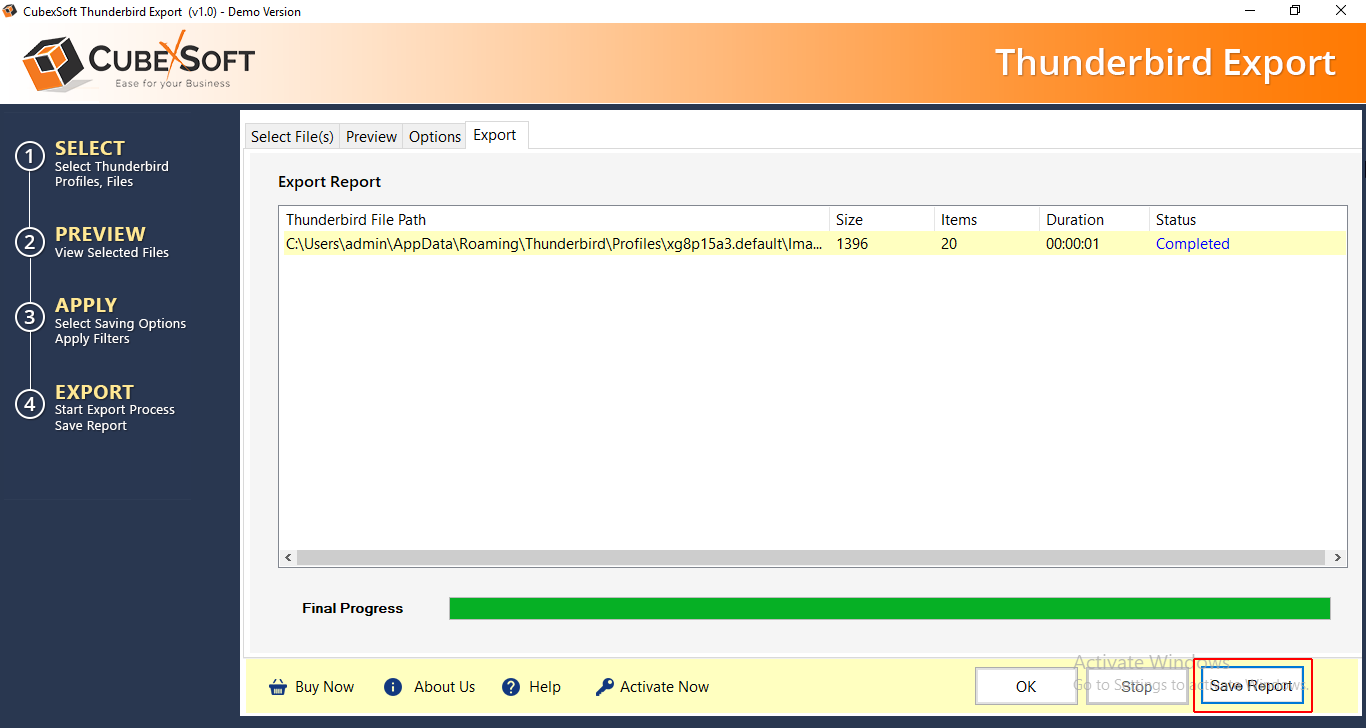 Some Software Related Question
Is the Software can be accessible on my Mac OS X?
No, the software only support Windows operating system. You can perform the conversion process on all Windows machine of 32 bit and 64 bit.
Does Thunderbird installation necessary in your system to move Thunderbird emails into Office 365?
No, Thunderbird Converter is an independent utility which does not require installation of Thunderbird or any other application to move Thunderbird emails to Office 365.
Can I move bulk of Thunderbird emails to office 365 account?
Yes, the software support migration in batch. You can move multiple of Thunderbird emails with associated attachments in just one time processing.
Conclusion
We hope after reading this blog, none of your query related to conversion remain unsolved. Here we provide both manual method and automated solution i.e. Thunderbird to Office 365 Converter to provide you quick solution of how to move Thunderbird data files to Office 365 in accurate formatting. If you are risk averse person and want a trustworthy solution then go for professional solution. In case you want to move database of small sized then Manual method is also good for you. Read the blog and analyse both the method then choose the method which suits you in better way.